Who Prepares the Meals?
Meals on Wheels serves seniors and people of all ages who are recovering from illness, injury, or living with disabilities. To do so, we need an advanced kitchen that can prepare the complex meals that our clients require. We serve between 300-400 meals a day, Monday to Friday. A total of almost 13,000 meals per month; far too many meals for a small non-profit to prepare. Thankfully, along with two personal care facilities, the Regional Distribution Facility (RDF), operated by the Winnipeg Regional Health Authority (WRHA), provides us with the nutritious meals that our clients need.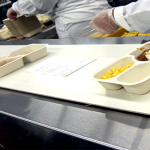 The RDF is found in the St. Boniface Industrial Park, in a strikingly large building. Each month, over 240,000 meals are prepared at the RDF for Winnipeg hospitals, congregate meal programs, and of course, Meals on Wheels clients. All of the RDF prepared meals that we serve include: a choice of soup, milk, or juice; a portion of meat or a meat alternative; a portion of vegetables; a portion of grains;  and a small dessert.
Ensuring Quality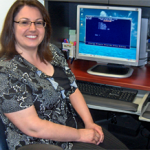 Janet is the employee at the RDF who works closest with Meals on Wheels' office staff to get our clients the nutritious meals they need. With years of experience, she is a guru of menu modifications, and can almost always find a variety of food to serve clients with the most restrictive diets.
Over the years, Janet has seen a lot of changes to the diet requests of Meals on Wheels clients. She notes that now, clients have more complicated requests than before; many require low-sodium meals, diabetic meals, gluten-free meals, or meals suitable for people with kidney disease.
Janet works hard to ensure that clients are satisfied with the meals that they receive, which is important, as some clients do not eat anything but what Meals on Wheels delivers. For clients with many food likes and dislikes she will often manually select what food they are to be sent, a time consuming but worthwhile task for her. She also logs clients' complaints and concerns, ensuring continuous quality improvement.
Constantly Improving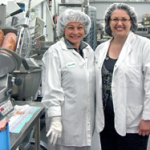 Janet and a team of the WRHA's Nutrition and Food Services dietitians are constantly updating and revising the menus, adding a variety of healthy food for our clients to receive. Each menu item is analyzed thoroughly before becoming a part of a meal, making sure it has an adequate amount of the nutrients that clients need to stay healthy. They have also worked hard to keep the meals cost-effective, helping us to keep the program accessible to as many clients as possible.
The Meals on Wheels room at the RDF is a remarkable mix of teamwork and technology. All food preparation and handling at the RDF follows strict health guidelines. A belt line is used by diet aides to efficiently put the meals together according to each client's allergies, food requirements and diet preferences. The filled trays are sealed and labeled before being shipped to the hospitals to be distributed. There, the meals are heated using specialized air convection technology and promptly placed into thermal containers, so our volunteers can deliver them hot to clients' homes.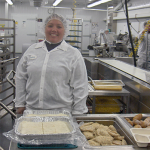 Not Just Hot Meals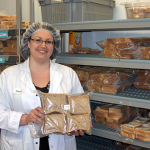 In addition to entrees, Meals on Wheels also offers supper bags; containing a sandwich, milk or juice, a side salad and a small dessert.  To prepare these, the RDF has a deli slicer, which is used to cut meats for sandwiches, and a large refrigerator to house them after being prepared.
The RDF also has created frozen meal menus, each accommodating different diet needs or textures. This allows our clients to choose which meals they want to receive from a list, and have those meals delivered in bulk so that they can eat a nutritious meal when it suits them. While many clients enjoy the daily deliveries of our volunteers, the frozen meal program gives clients more freedom; they only have to be home for one delivery every week or two.
Without the help of the RDF, the hard work of Janet and other dedicated staff, and the support of its management, Meals on Wheels would not be able to help as many clients as we do today. We are incredibly thankful for the long-standing partnership that we have with the Winnipeg Regional Health Authority, and so are our clients.
For more information on the WRHA, and the work that they are doing to keep people in the Winnipeg region healthy, please visit their website.
Information on registering a client with or becoming a volunteer for Meals on Wheels can be found on our "Get Meals" or "Volunteer" pages.